~General Information~
Name:
Kagerichi Taiken.
Nickname/Alias:
The Snoman.
Weight:
113 Lbs.
Height:
5'9".
Age:
Early 20s.
Gender:
Male.
Appearance: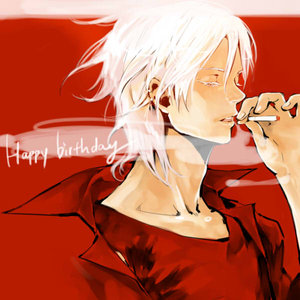 Clothing:
Main Attire:
A maroon red button up with ghost white, flared pants. A basic, red wifebeater and white polo shoes. The medium of clothing he mainly wears can vary, but the colors stick around reds and whites.
Sub Attire:
Crappy clothing. Old sweaters, sweat pants, dinged up hats, etc.
Personality:
The Snoman views life as a cesspool of rot and filth. A depressing and often deranged human being, his only hobbies include taking photographs and smoking the day away. Almost a mute, he spends a lot of his time not talking - only talking when it is needed. This being said, he talks to himself, almost silently, a lot in such a way that he only points out the bare minimum.
Example, "Dainty ladies in white. Skipping across fields with optimism. Pathetic."
Sexual Orientation:
Homosexual.
~Clan Information~
Clan Name:
N/A
Kekei Genkai:
N/A
Clan Symbol:
N/A
Clan History:
N/A
Ability Summary:
N/A
~Rank/Village Information~
Classification:
Photographer.
(Not Combatant-Ninja - Theoretically could be classified as a Missing-Nin.)
Letter Rank:
C.
Village:
Always Traveling.
Home Village [Town]:
Hidden Snow Village.
~Skill Information~
Skill Specialty:
N/A
Elemental Affinity:
N/A
Special Characteristics:
The Snoman has always been an odd individual, in the sense that, he can go weeks, almost months, without food or water. It is a mystery what causes such 'Skill' - either a form of meditation or extreme discipline for some unknown reason.
~Jutsu~
Spoiler:
~History/RP Sample~
History/Background Story:
The Snoman was born and raised by a mother and her boyfriend in the Hidden Snow Village. As a child, The Snoman was very temperamental and would always through fits. His mother was neglectful and wrapped up in her own problems, whereas his father would beat her constantly - also neglectful of his son. The Snoman was always subjected to cruel behavior from his parents. Make-Up Sex, fights, arguments. It was a bad environment to grow up in. One night, when The Snoman wouldn't stop crying, his father accused his mother of having
"This pathetic piece of sh**"
. Out of rage, his father struck The Snoman and left the house - no one ever seeing him again. After this incident, The Snoman was silent. He had never thrown a fit again, nor cried. He turned mute. He would spend his time outside (a lot of the time in blizzards) not moving or doing anything. Just standing there. When people asked him what he was doing, he wrote to them,
"im beeng a snoman"
- thus starting his new nickname.
Time went by where The Snoman spent his time alone. Away from his mother and friends. He was admitted into the Academy, but shortly resigned after a strong detest toward the 'ninja life'. At age 12, The Snoman ran away from home taking his mother's camera with him. He was always fascinated about the ability to take pictures in time and actually refer to them as the past. Years went by as The Snoman roamed the Hidden Snow Village, taking extravagant pictures of wildlife, people, and terrains. At the age of 14, The Snoman was informed that both his mother and father died in a fire. A stranger asked The Snoman what he thought about the situation and in one word he answered,
"Good."
Now free from his childish bonds, The Snoman decided to roam the world - with the permission of his Hokage - taking photographs and observing the society of
"pathetic egomaniacal freaks"
.
Roleplay Sample:
http://naruto-x.forumsmotion.com/water-country-hidden-mist-village-f15/returning-home-t3357.htm#57717
Last edited by Eight Equals D on Sat Jun 26, 2010 11:53 pm; edited 2 times in total