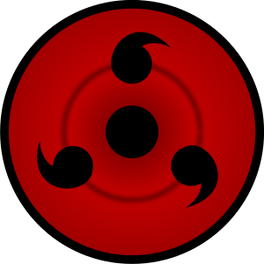 Sharingan:
¤ Here is basic run-down of the abilities gained as your Sharingan develops:
One tomoe:
The user is able to see the "colors" and flow of chakra, and easily recognize genjutsu. Also pick up on subtle details, enabling them to read lip or pencil movements.
Two tomoe:
The user can track fast-moving objects and has some predictive capabilities. Users can memorize just about any technique they witness, apart from Kekkei Genkai techniques and summons (if w/o a contract).
Three tomoe:
Enabling them to see the image of an attacker's next move from the slightest muscle tension in their body and counterattack or dodge without any wasted movement. The user is capable of inducing a unique brand of hypnosis that involves suggesting actions and thoughts to the opponent through genjutsu cast by simple eye contact.
_______________________________________________
¤ Starting tomoe limits:
Genin - 1
Chuunin - 2
Jounin - 3
¤ Near-death experiences, the lost of a comrade, etc, all count towards sharingan advancement.
¤ You can only copy up to your rank. Meaning a chuunin cannot copy A rank jutsu.
¤ When copying elemental jutsu, you must have the affinity for it. The same applies with any other jutsu.
¤ Unless you have the specialties, techniques that require movement copying can not be added to your arsenal unless you have that skill specialty.
¤ When you copy a jutsu, you can only use the jutsu in the topic you copied it. If you want to keep it permanently in your arsenal, you will need permission from the person you copied the Jutsu (unless it is a cannon technique) from since it is not your creation. No one likes thieves.
¤ If you modify a copied jutsu in the topic you copied it from, to your own type of jutsu though still similar, you still need the creator of the original Jutsu's permission to keep your own modified version.
¤ You cannot copy more than three jutsu per thread.